Sunday, July 4, 2021
5:00 PM - 10:00 PM
Terrell Municipal Airport
Admission & Parking are FREE
lawn chairs recommended
Join us at Terrell Municipal Airport, the new location for Terrell's Independence Day Celebration. It will be a fun-filled evening with activities for the entire family to enjoy.
Attractions
Mini Hot Air Balloon Glow (weather permitting)
Tethered Balloon Rides (additional cost of $20 cash per person; weather permitting)
Food Vendors
Static Aircraft Displays
Formal Flag Retirement Ceremony
Face Painting
Souvenir Vendors
Gelly Ball
Bounce Houses
Museum Tours
Live DJ
Photo Booth
Fireworks Display
| | |
| --- | --- |
| 6:30 PM | Formal Flag Retirement Ceremony hosted by the Daughters of the American Revolution King's Fort Chapter |
| 7:15 PM | Tricycle/Bicycle Decorating Contest & Parade |
| 7:15 - 8:15 PM | Tethered Balloon Rides (additional cost activity) |
| 8:15 - 9:15 PM | Hot Air Balloon Glow |
| 9:30 PM | Star Spangled Banner & Fireworks Show |
Parking will be available along Silent Wings Blvd. It is self-parking only. See map below.
Handicap parking will be available on the first row along Silent Wings Blvd, closest to the BFTS Museum.
There are three entrances that will get you to the parking area:
From SH34: enter at British Flying Training School Blvd. Once you reach the barricade, turn left.
From SH34: enter at Industrial Blvd.
From Airport Rd: enter at Silent Wings Blvd.
All activities will take place at the north end of the airport, near the No. 1 BFTS Museum.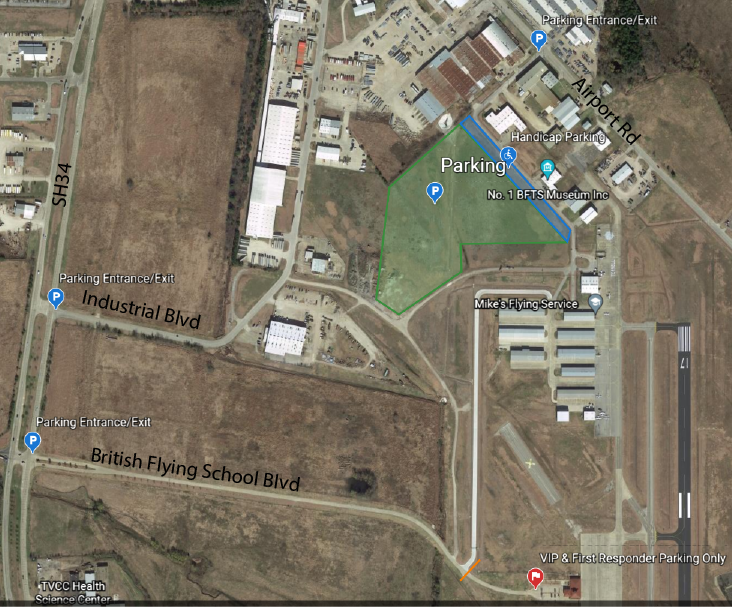 Frequently Asked Questions
1) How much is it?
Parking and admission to the event are free. There are other activities and attractions that cost, such as food vendors, tethered balloon rides, souvenirs, etc.
2) Can I bring a pop up shade?
Yes, you may bring a 10x10 pop-up shade. Spectator areas are both in grass and on concreted, so be prepared to secure the tent with stakes or sandbags.
3) Where do I park?
Parking is off Silent Wings Blvd. You can enter from one of three places:
-- Hwy 34 & Industrial
--Hwy 34 & BFTS Blvd
4) Can I bring a grill to cook out?
No, grilling at the airport is not allowed. There will be several food vendors available selling food.
5) How much do the hot air balloon tethered rides cost?
A tethered ride is $20 cash per person. Rides are weather permitting and will begin around 7:15.
6) There are no shade trees at the airport. Where can I go to get out of the sun?
The BFTS Museum will be open for tours and they have A/C. There will be one hangar open as well with large fans and water stations.
7) My son/daughter wants to participate in the bicycle and tricycle decorating contest and parade. What do I need to do?
Simply show up before the start time of 7:15 PM. No registration is necessary. The kiddos will parade around an area and will be given a participation prize.
8) What time do the fireworks start?
The fireworks will start after dark, at approximately 9:30 PM. You can view a full schedule at the top of this page.
9) Are coolers allowed?
Yes, you can bring a cooler.
10) Is alcohol allowed?
No, alcohol is not permitted at the airport.