Coffee at the Chamber is a come-and-go, casual networking event held at our office once a quarter. In December we do Cookies & Cocoa at the Chamber!
We will have coffee and donuts. You can meet and network with other members. and grow your business. Bring business cards!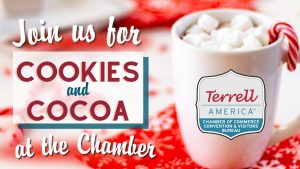 NEXT COFFEE AT THE CHAMBER
Date: Wednesday, December 6, 2023
Time: 7:30 - 9:00 AM
Location: Terrell Chamber of Commerce, 1314 W. Moore Ave.