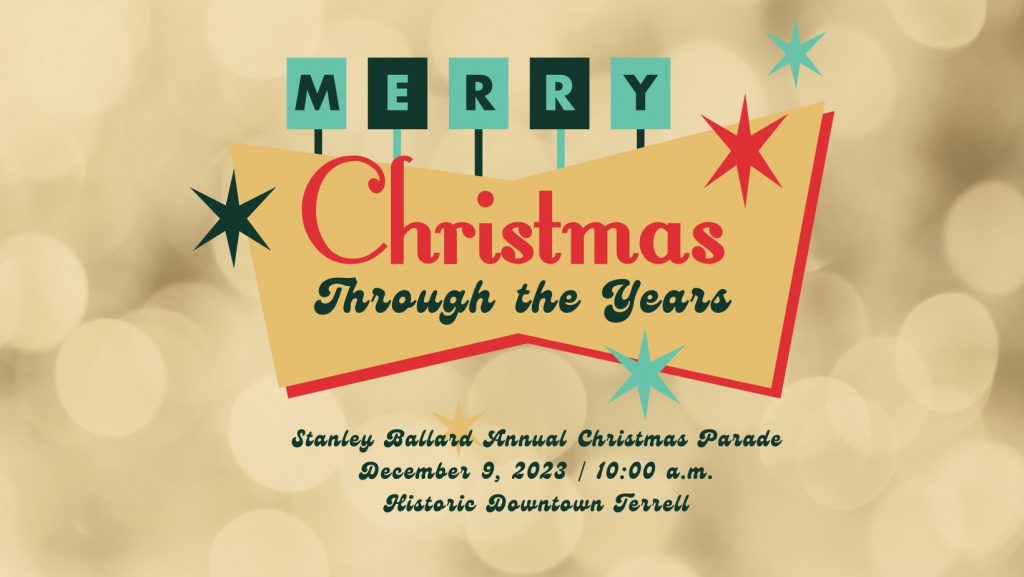 Saturday, December 9
10:00 AM
Theme: Merry Christmas Through the Years
Route begins at Moore Ave & 9th St and will head east on Moore and end at Adelaide.
Parade Entries
Parade entry is $10 for Terrell Chamber Members and $25 for non-members.  You must complete the online parade application and submit payment prior to the deadline, which is December 4.
Please read the rules and regulations for parade. The Chamber has the right to deny entry into the parade if rules are not followed and respected.
The entry categories are as follows:
Elected Officials (

who are currently serving):

Signs will be provided by the chamber for individuals who register by November 30. Elected officials will be responsible for their own car and driver.

  Lineup is at the 9th St. Stadium Entrance. All other elected officials are welcome to participate, but they must provide their own car, driver and signs.




(Candidates running for office must register by calling the office)

Antique Cars and Candidates: Lineup is at the stadium parking lot. (Antique cars must be 40 years or older)
Riding Clubs and Horse Entries: Lineup is at the Ben Gill Baseball parking lot
Bands and Drill Teams: Lineup for Terrell ISD teams is at the Platinum Chevrolet Parking Lot on 9th St, non-Terrell ISD team lineup is at the football stadium parking lot
Motorcycle Clubs: Line up is at the Ben Gill Baseball Parking lot
Fire Trucks and Tow Trucks: Line up is on the side of Ninth St next to the football stadium facing Moore Ave
Floats: MUST report to Terrell High School football stadium parking lot for float number and judging.
Entry numbers will be given on the day of the parade to the entries to be judged as you enter the stadium for lineup. Any other parade entries may be accepted at the discretion of the parade marshal.
Late entries must report to the parade marshal a minimum of one hour before the scheduled start time for permission to enter. Permission is not guaranteed.
**EVERYONE must check in at 8:30 a.m. in the staging area**
Awards
Two (2) trophies will be presented before the parade. One (1) trophy will be given to the 'Best of Theme' float and another to the 'Best Overall' float.
Parade Rules - PLEASE READ!
Only two (2) vehicles/floats per organization. (i.e. tow trucks, fire trucks)
Four wheelers/go carts will not be allowed, with exception of the Hella Shriners
Absolutely NO candy or items can be thrown from floats or cars.  This is a safety issue.
Only one Santa Claus, coordinated by Chamber, will be allowed in parade
All music coming from floats must be traditional Christmas or religious
All participants must stay on the float until driver pulling float comes to a complete stop and exits the vehicle.
In the event of inclement weather, the parade will not be rescheduled
All entries need to be decorated in Christmas décor or parade theme prior to arriving at parade set up.  All decorations should be festive and in the theme of Christmas, no scary of demonic characters should be used.