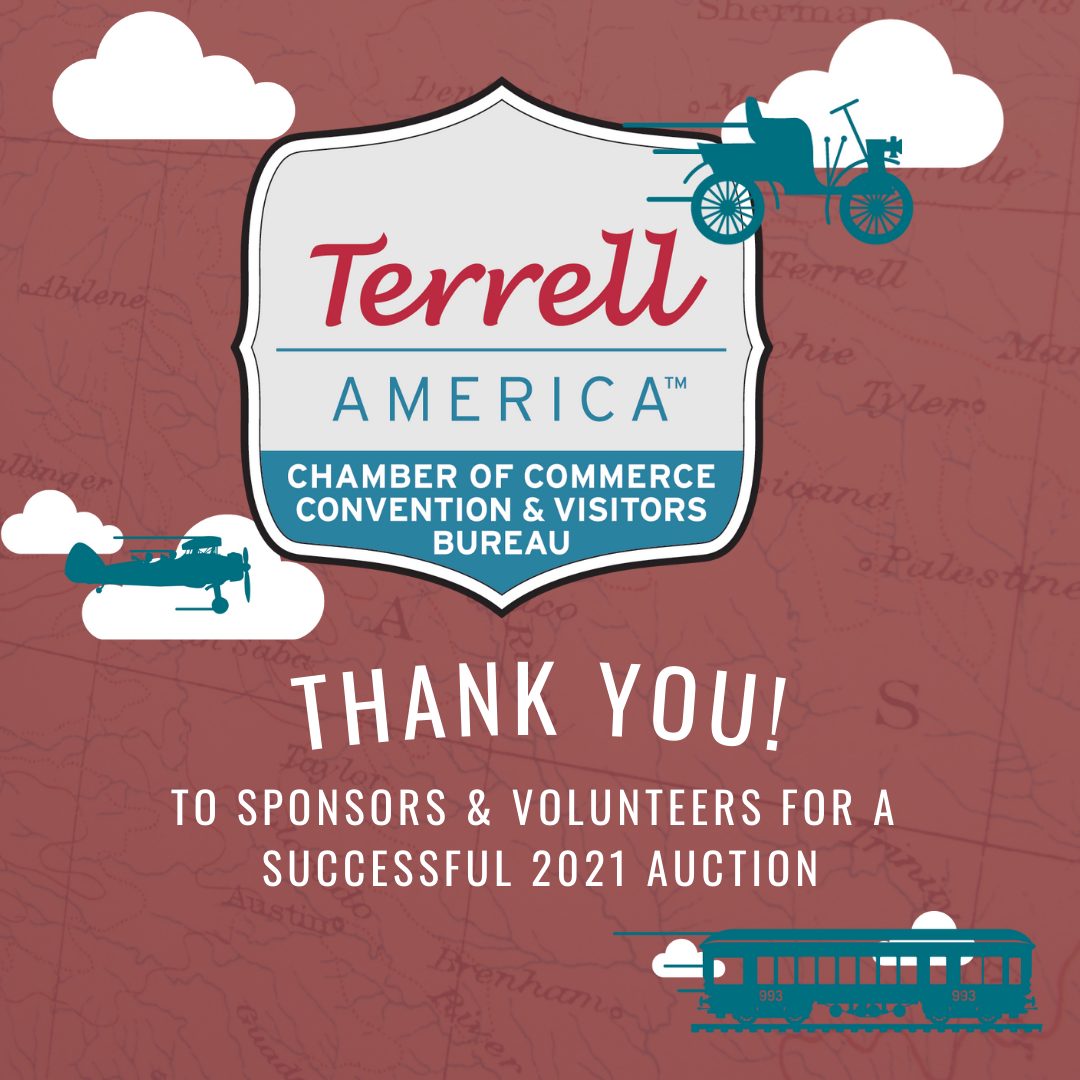 Planes, Trains and Automobiles 40th Civic Exceeds Expectations!
The Chamber of Commerce would like to thank all attendees, sponsors and volunteers for making the 40th Civic Auction a very successful event.  The annual Civic Auction is the primary fundraiser for the Terrell Chamber of Commerce / CVB. Funds raised go back into the community in several ways: five scholarships for THS seniors, community events, small business events and support, TISD support, advocacy and more. Watch the short video to the right to see how funds are used.
HOW IT WORKS
Photos and descriptions of all auction items will be available to preview beginning the week of October 4. You can click on an item to view a full description, exclusions, etc. You can pre-register as a bidder anytime between now and the auction dates.
Bidding is easy!
Once the auction opens, click on an item you'd like to bid on.
You will have a few options:

Place a bid for the next increment
Bid more than the next increment. If you choose this option you can do one of two things: choose a higher amount you wish to bid from the bidding wheel OR set a max bid. If you set a max bid and someone outbids you, the system will continue to bid for you on that item up to your maximum amount. Once you are outbid, the system will alert you so you can bid again if you choose.
Buy it Now for a set price to end the auction on that item

If you choose not to bid on an item or are outbid, you always have the option to make a cash donation by clicking on the blue DONATE NOW button that appears throughout the online bidding website.
ONLINE BIDDING
You can register to bid anytime. Visit https://terrell2021.ggo.bid and create an account with Greater Giving. This is NOT the same as your Chamber member login. On October 4, you'll be able to begin bidding on silent and premier auction items.
You will need to setup a username and password, and provide the following details during registration:
First and Last Name
Mailing Address
Cell Phone Number (for text alerts during the auction)
Credit card information
Billing address
Once you are registered, you will receive a text and email confirmation containing a link to the online bidding page where you can preview items before the auction begins, and then bid on items once it opens.