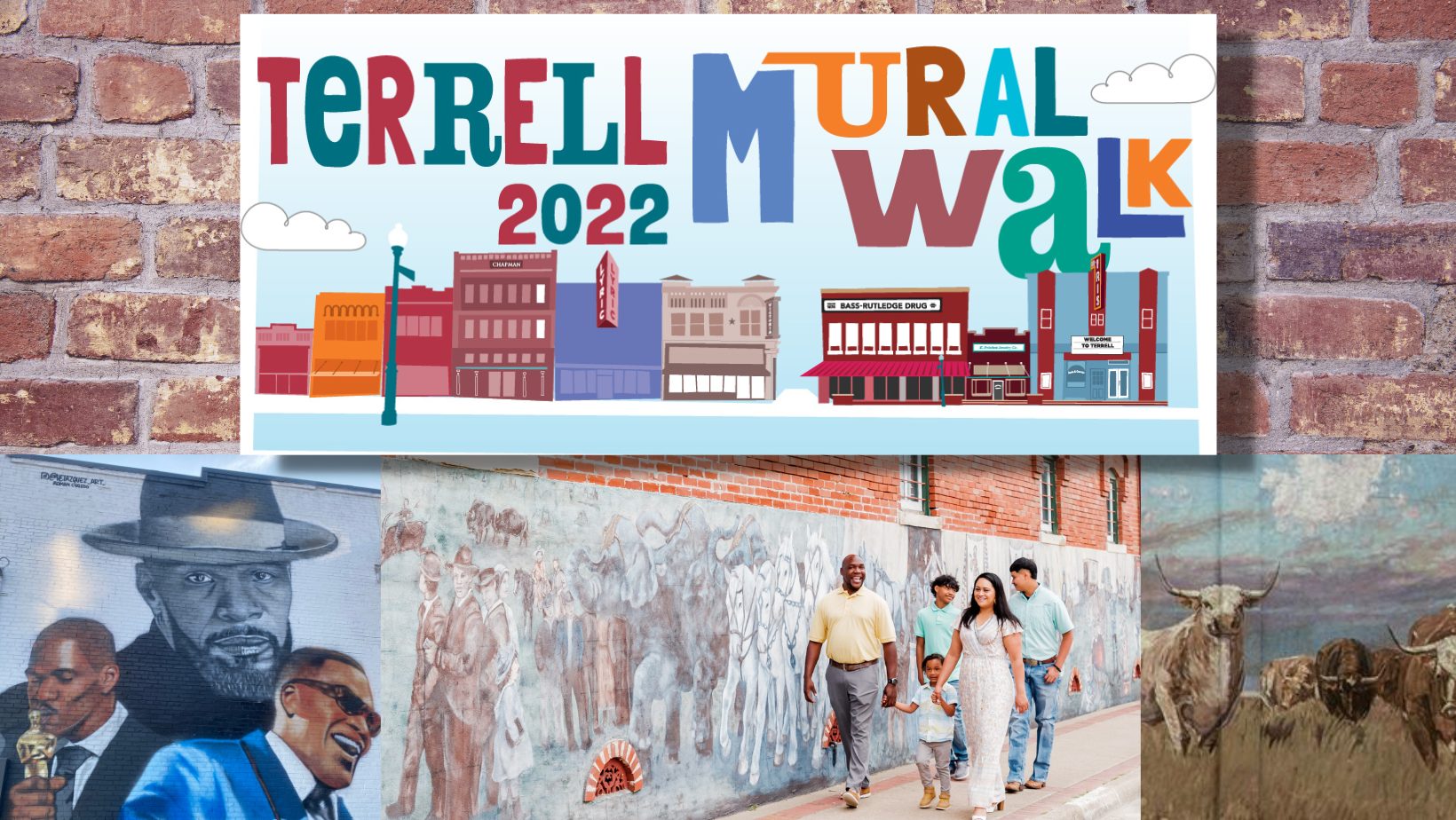 1st Annual Terrell Mural Walk
September 17, 2022
10:00am - 2:00pm
Terrell, Texas — The City of Terrell, in partnership with The Terrell Chamber of Commerce, will host the first annual Terrell Mural Walk on Sept. 17, 2022.
The Mural Walk will be held in historic downtown Terrell from 10 a.m. – 2 p.m.  Participants are invited to enjoy a self-paced tour of the City's existing historic murals as well as two murals – the Jamie Foxx mural in the 100 block of South Alley and a vintage-inspired fitness mural on the Lyric building – the future home of Hard Bodies - located at 115 W. Moore Ave.
Participants will begin the tour at Bard Owl Games, located at 114 E. Moore Ave, where they will be issued a Mural Passport.  Individuals will be eligible to earn prizes based on the number of points they accumulate on their passport through activities such as taking photographs at designated murals, purchasing items from local merchants and visiting murals located outside of the historic district.
Participants also will have an opportunity to "get their hands dirty" by taking part in the creation of a paint-by-number mural along South Alley.
"This will be a family fun event that you will not want to miss," said Chamber Tourism Director Sharon Harper.
Downtown merchants also will be participating in the event with numerous sales and specials for shoppers.
"We have signage located throughout the Downtown area listing the address for each of our existing murals," Harper said.  "In addition, visitors can scan QR codes that take them to a Directory of Downtown Businesses, the Discover Terrell website, a Visitor's Guide and the Discover Terrell GeoTour site."
"The City of Terrell and Chamber of Commerce look forward to this celebration of Terrell as the "Home of the Historic Mural," Harper said. "We are hoping this event will attract our local residents as well as visitors who want to explore our City."
To learn more about Terrell's existing murals and the artists who created them, visit