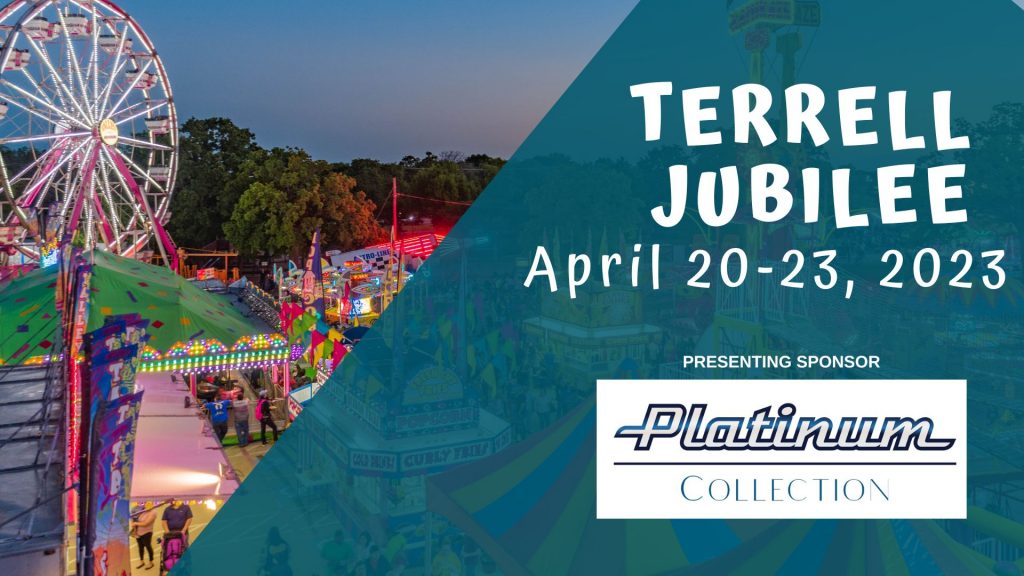 Thank you to our Sponsors!
The Terrell Jubilee will be held the April 20-23, 2023 at Ben Gill Park.  There will be four fun days filled with activities for the whole family.
Carnival, Arts and Crafts Vendors, Food Vendors, Live Music, Entertainment, Car Show, Health and Business Expo and a 5K Run.
Visit http://terrelljubilee.com for more information
Terrell Jubilee 2023
Entertainment & Attraction Schedule
Thursday, April 20
5:00 PM to Close: Family Fun Night (Wrist bands $35)
Friday, April 21
4:00 PM to Close -  Carnival Rides
4:00 PM to Close - Food Vendors
7:00 PM BBQ Cook-Off Cooks' Meeting
Saturday, April 22
7:00 AM Fountain 5K Registrations (Ben Gill Covered Pavilion)
8:30 AM BBQ Cook Off - Pit & Local Divisions
9:00 AM Fountain 5K Run/Walk Begins
9:00 AM - 5:00 PM Arts & Crafts Vendors / Health & Business Expo
9:00 AM to Close - Food Vendors
10:00 AM - 4:00 PM Carter BloodCare Blood Drive (in Ben Gill Pavilion parking lot area)
10:00 AM - 4:00 PM Heritage Museum Railcar (Open For Tours)
10:00 AM to  Close - Carnival
10:00 AM - 11:00 AM Attraction Area – Dog Show "Ain't got no Papers"
11:00 AM -11:45 AM Entertainment Stage – Kevin Curtis
11:00 AM Pinto Beans Judging
12:00 PM Entertainment Stage – Mexico 2000 Ballet Folklorico
12:00 PM BBQ Chicken Judging
1:00 PM Tug of War Tournament - Pee Wee Football Field
1:30 PM BBQ Rib Judging
3:00 PM BBQ Brisket Judging
4:00 PM Cobbler Judging
4:00 - 5:00 PM Entertainment Stage - Mariachi Viva Mexico
5:00 PM BBQ Awards
6:00 PM- 7:00 PM Entertainment Stage - Wesley Pruitt Band
Sunday, April 23
10:00 AM - 4:00 PM Arts & Crafts Vendors / Health & Business Expo 10:00 AM - 4:00 PM For the "Love Of Cars" Car Show (Ben Gill Baseball Parking Lot)
11:00 AM - Noon - Kevin Curtis on Stage
12:00 PM to Close -  Carnival
12:30 PM - 1:30 - Doc Ballard on Stage
2:00 - 3:00 PM Karaoke on Stage
3:30 - 5:00 PM Foxx City Band on Stage